Learning Management System
Wright Service Corp. University (WSCU) is a learning platform that documents and tracks online training. WSCU creates the opportunity to reach every employee in the company who has a company email for training and continued learning. Topics include management, leadership, customer service, productivity, tools, tips and more. The Training and Development Department have increased course offerings significantly in the Learning Management System (LMS). More than 8,000 LinkedIn Learning courses are available to employees. In addition, new employees will be assigned training on WSCU to review topics such as:
Harassment and discrimination
Employee Stock Ownership Plan (ESOP)
True Colors
Customer service
Timesheet tracking
Retirement savings, and enrolling in a 401(k) or Roth
Accessing the company clothing and apparel store
LinkedIn Learning by the Numbers
MOST VIEWED CONTENT AREAS:
MICROSOFT TEAMS,
CUSTOMER SERVICE,
MEETING & EMAIL ETIQUETTE
Lunch & Learns
Lunch and learns were reintroduced in May, hosted by the Training and Development Department once a month. They focus on content in the areas of business knowledge within our family of companies
(finance, strategic planning) and interpersonal skills that improve operational performance.
Onboarding & Orientation
The Training and Development and HR Departments team up to support a two-part new employee orientation for all corporate office employees. In a new employee's first week, they learn about our family of companies: history, company structures, training available on WSCU, and employee policies, resources and benefits. The second session takes a deeper dive into the WSC culture, including learning about the mission, vision, and values, the ESOP, and being provided information about personal and professional goal setting.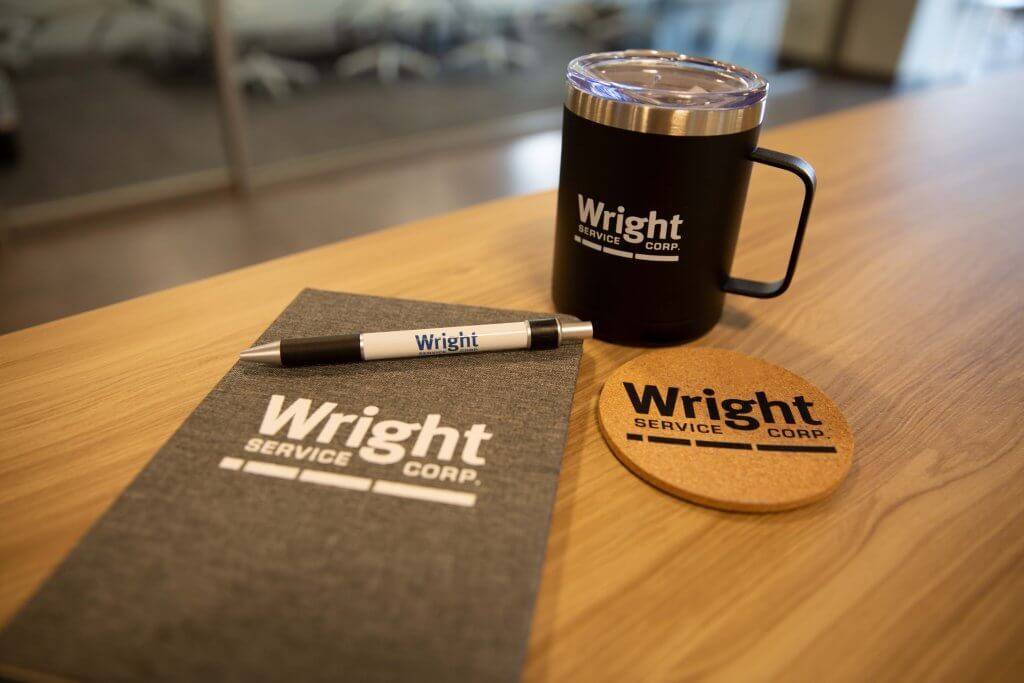 A companywide onboarding and orientation initiative allowed for the Marketing and Communication, Human Resources, and Training and Development Departments to collaborate starting with reviewing and analyzing the current processes and resources for WSC employees who support our shared services. By the summer, new hires started receiving branded welcome gifts – coaster, mug, notebook and pen. Resources were added or updated on the WSC SharePoint:
For Managers:
Hiring Manager Resources Folder
Office Tour Talking Points – information to provide on department locations, history of items in the office, general use and more
Email Templates – one to send additional information to their new hire prior to their first day and another to send to the office staff as a welcome
Onboarding Checklist Template – a guide for the manager in planning out the first few days for their new hire
For New Employees:
New Hire Guide – history, overview of companies, management and department structure, culture, employee development, sustainability initiatives, benefits, links to additional resources and industry terminology
Company Directory – general contact information
Benefits Flyer – high-level overview of benefit offerings
True Colors
The True Colors® Personal Awareness & Success training guides participants through concepts of self-awareness and effective communication. This fun, interactive workshop helps individuals better understand themselves and others. It creates a common language, providing a foundation for genuine relationship building and honest dialogue. Four employees are certified True Colors facilitators. In 2022, 117 employees across our family of companies received a total of 271 hours of True Colors training.
Individual Development
The Training and Development Department offers companies and departments with individual development options based on needs and desires. Additional leadership and professional development training programs and mentorship opportunities are available for employees.
WSC Mentorship Program
The Training and Development Department seeks to create a pool of interested mentors and mentees for pairing based on interests, skills, and experience. We aim to serve as guides to get employees started on a successful learning relationship. The Mentor Hub on the Training and Development SharePoint page contains a wealth of information for those looking to begin a successful mentorship. Future mentor-focused gatherings are on the horizon.
Women of Wright
The first Women of Wright Workshop was held in June. Our goal is to connect, educate, and empower women in our family of companies by providing a community that can inspire and strengthen the voice of women in the industry.
We had 18 employees participate in the workshop and eight employees on the planning committee.
LEAD Program
The LEAD Program is the preeminent leadership development program offered by WSC. The program currently takes place over the course of 18 months and consists of:
Facilitated, in-person sessions at WSC headquarters in West Des Moines, Iowa
Job shadow opportunity
Participation in a mentor program
Capstone project and presentation
Participants are nominated by leaders within the WSC family of companies. Nominators advocate for their nominee by illustrating that person's leadership capabilities through real-life examples. Nominations are carefully reviewed and selected by the committee. Whether selected or not, getting nominated indicates that their leader believes in the employee's leadership ability. Since the program's inception, 61 employees have graduated from the program. The current cohort is comprised of 28 employees.
LEAD Program by the Numbers
61
GRADUATES SINCE
PROGRAM LAUNCH
980
HOURS OF
CLASSROOM TIME
Executive Leadership Development Program
WSC provides the Executive Leadership Development Program (ELDP) to higher-level managers or recently appointed executives within our family of companies via nomination by an executive. Participants are ambassadors for our family of companies, demonstrate leadership in their daily interactions, and are deeply committed to personal growth and development. During this three-year program, participants complete a detailed 360 assessment, then receive results and interpretation from a leadership coach with support from their appointed executive sponsor. They use the opportunities from their 360 to create an individual development plan that includes coursework from a variety of providers, mentoring, coaching and job shadowing.
In 2022, there were eight ELDP graduates. These individuals represented five companies within our family of companies. Participants culminated the program by providing a detailed capstone presentation to the Wright Board of Directors and Executive Team, demonstrating the impact of their applied development on the organization in the areas of process improvements, efficiency gains, advanced effectiveness, human resource enhancements, and revenue saved or earned.
Tuition Reimbursement
Tuition reimbursement is available to WSC employees pursuing further education aligned with their current or future career goals.